9 Powerful Food Combos That Can Aid In Weight Loss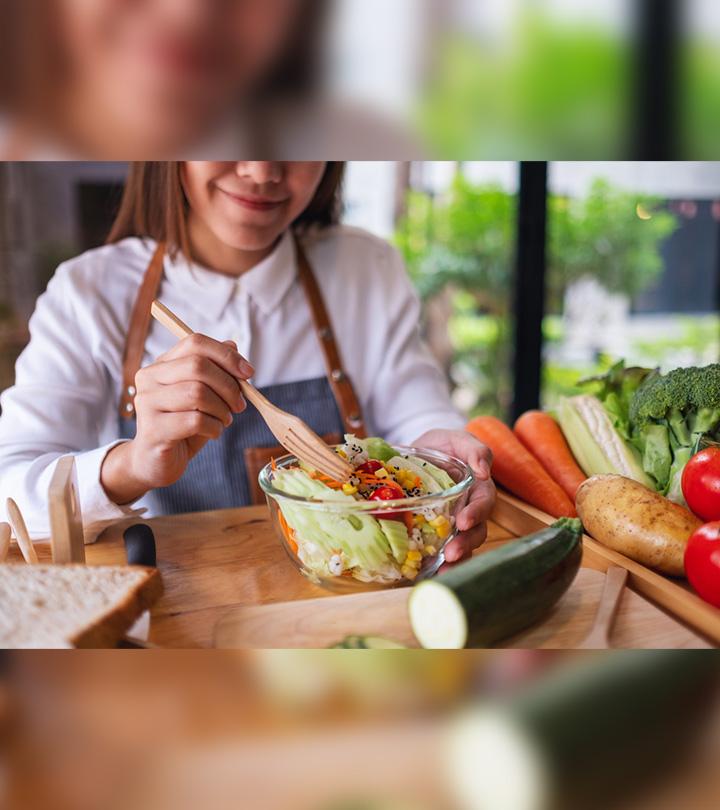 You cannot lose weight if you are constantly munching junk food and thriving on unhealthy snacks and chips. In fact, more often than not, the food we consume plays a significant role in contributing to the fat content of our bodies. Of course, this doesn't mean you have to give up on delicious food! In fact, some of these food combinations are so delicious they'll have you coming back for plenty more. When it comes to cutting down on calories and eating healthy, sometimes a combination of two can be better than one. Each of these nutrients seems to work better when together and can have a massive effect on your body when it comes to losing weight. So here are nine powerful food items that work better as a team and help keep your appetite satiated for longer. Of course, it's important to note that if you want to see a steady weight loss, you will have to work out at least three times a week, if not more, along with following a healthy diet:
1. Watermelon And Apple
If you've never tried an apple and watermelon fruit salad, now's the time! Watermelons are great when it comes to maintaining a healthy waistline due to the fact that they have a lower fat content. And well, what better way for you to pack on the fiber than eating fiber-rich apples! If you want to kick the flab off your body, this is a combination that will definitely work! You can also spice this salad up (literally) by adding paprika and salt to it.
2. Yogurt And Raspberries
This deliciously creamy treat is a great way to help burn up that pesky fat you've collected. Calcium and vitamin D are two nutrients that are essential when it comes to dropping weight. So make sure that you look for unsweetened yogurt that is fortified with vitamin D. You can top it off with around half a cup of some delicious raspberries to give it a dash of sweetness and get some fiber as well. This tasty dessert will be a good replacement for your ice cream cravings.
3. Black Pepper And Eggs
Everyone knows that eggs are rich in protein, and many health experts advise eating them. But did you know that eggs can be brilliant when it comes to maintaining your weight and dropping some pounds? The combination of eggs and pepper is excellent because pepper is packed with Vitamin C. Plus, who doesn't love to eat their scrambled eggs simply with salt and pepper?
4. Steak And Broccoli
Are you feeling a bit too tired to drop by your gym? Well, this meal might actually help out! Beef is enriched with iron and protein that your body uses to build red blood cells. These red blood cells transport oxygen to your organs, and they can zap your energy. Broccoli is the perfect side to add to your meat dish because it is enriched with iron and Vitamin C. No wonder that the steak-broccoli combo is so popular among keto diet enthusiasts.
5. Cinnamon And Yogurt
Most health magazines will tell you that yogurt is a must-have when it comes to dropping some weight. It works best when you combine it with the right items. Cinnamon is also excellent for losing weight and helps reduce the stored fat in your body. The antioxidants that are present in cinnamon can help improve insulin balance, and this will eventually aid in lowering the levels of flab on you. A winning combination to keep your weight in check.
6. Dark Chocolate And Almonds
Let's be honest, who doesn't love eating chocolate? But the problem is that milk chocolate can really make you pack on the pounds. So what do you do if you still crave sweets but don't want to gain a lot of weight? Well, you switch to black chocolate! Dark chocolate is a dessert that won't leave you feeling guilty after you've eaten it. To elevate the health benefits further, pair your chocolate with some almonds to keep yourself satisfied for a longer amount of time. Nuts like almonds are power-packed with essential nutrients and proteins in small packages. The crunchy almonds also enhance and complement the taste of the chocolate.
7. Chicken Breasts And Cayenne Pepper
Chicken breasts are fabulous when it comes to losing weight! They are packed with protein and hence take much longer to digest and leave you feeling full for longer. You can spice up this weight loss staple by adding some cayenne pepper to it as the peppers help with digestion, boosts metabolism, and helps your body detox. And not to mention the delicious taste of this meaty affair!
8. Dark Leafy Greens And Avocado
Kales and spinach are low in calories but high in nutrients. However, just these can leave you with a feeling of wanting more. So to make this meal more filling, consider adding some avocado to the mix. Avocados contain monounsaturated fats (the good kind of fats) and contain all the antioxidants you need for a healthy meal. No wonder that the avocado craze has swept across the world and has become a favorite in places where it is not even grown.
9. Walnuts And Oatmeal
One of the simplest ways to slim down is by eating fibrous food. Adding more fiber to your diet is excellent when it comes to losing weight. This is because your body takes a lot of time to break down fiber. It slows down your digestion and leaves you feeling full for longer. Oatmeal is an excellent source of fiber, and so are walnuts. If the mix feels a bit too dry for you, you can always add some yogurt to this mix and make a delicious serving.
It's essential to watch your diet and ensure that you eat nutritious food along with exercising and getting a good night's sleep. Try these food combinations out and note down the changes on the scale. Do you have some more awesome meal combinations ideas which you follow? Do share with us in the comments section below.
Was this article helpful?
Related
The following two tabs change content below.
LATEST ARTICLES
Why Diet Is More Important Than Exercise For Weight Loss?

Gaining and losing weight is a part of life, and any person you envy the perfect body has worked hard for it and truly deserves it.

12 Affordable At-Home Date Night Ideas For 2022

When you first started dating, you discovered the whole city together. So if there is a good place to dine in, you have already been to it.

69 Questions To Ask Your Spouse in 2022 Besides "How Was Your Day?"

Every person has a unique bond that they share with their partner. While some chatter all day and never run out of breath, others struggle to find new things to tell their partner.

Top 10 Self-Care Mistakes That Can Wreck Your Skin

If you are keeping yourself healthy in every way, with eight hours of sleep, adequate water consumption, and a proper diet but are still not happy with your skin looks, it is time to make some serious changes in your self-care routine.

10 Expert Tips To Extend The Life Of Your Household Items In 2022

Remember the excitement when you first went to get your sofa set and chairs? As time passes, the enthusiasm resides, and we don't properly care for our furniture, bedspreads, dishes, and other goods that make our house.

9 Times Celebrities Surprised Us With Unusual Skills

Many of us wish we had a unique ability or talent. Superhero movies like Superman, X-Men, and others are so popular because they let us indulge in our superpower fantasies.

11 Films That Captured The Spirit Of Mumbai

There is something about Bollywood movies that touch your heart like no other. When you see the streets, you have walked on and the restaurants you have dined in, you will immediately connect to the movie.

How To Wash Your Hair Without Shampoo

It is no secret that you need to wash your hair regularly to keep it clean and healthy. When you wash your hair, you almost certainly use your regular shampoo.

8 Ways To Reverse Effects Of Computer Radiation On Skin

Your electronic devices emit radiation, and to be honest, we have known that since we purchased the gadgets. But does that stop us from using them 24/7? Not necessarily. We are tied up with our electronics, and we need them desperately to function adequately.